At Queen Victoria School we want our pupils to be well exercised not only physically but also intellectually, morally, socially and culturally. Our Vision Statement is below.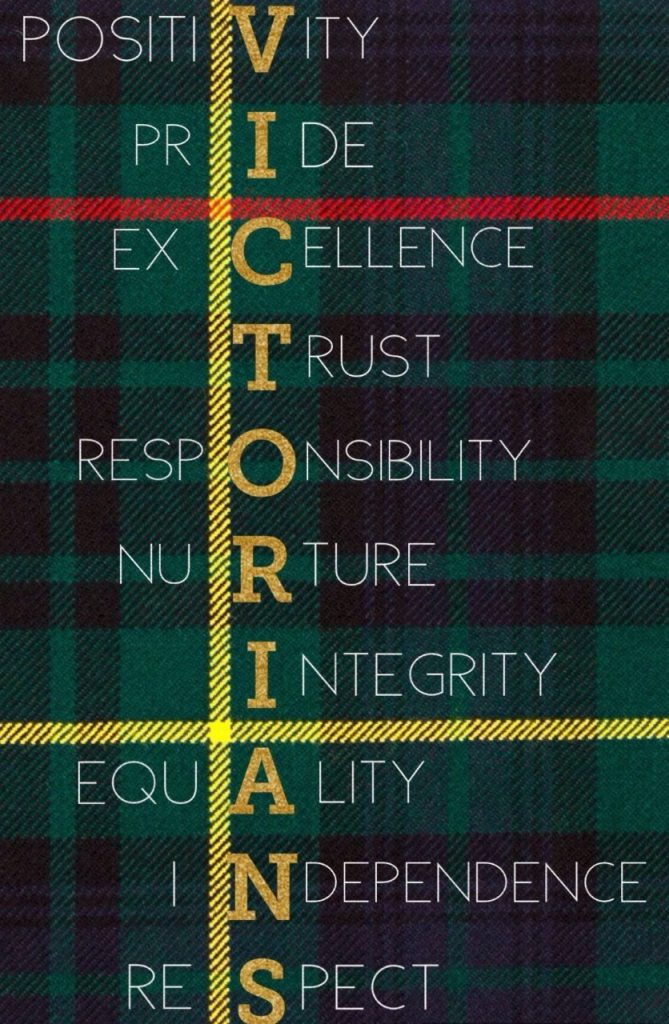 Stability, continuity and an excellent education in Scotland for Armed Forces children.
Vision Statement
We aim to provide a unique, thriving boarding and educational community in which all pupils and staff work to support and respect one another in realising their full potential.
Statement of Purpose
We exist to provide a caring but stretching learning environment, valued by the military families whom we serve. We embody and promote values of honesty, integrity, compassion and empathy. Queen Victoria School has a long tradition of ceremonial excellence; we take pride in this and all that our School has to offer.
---
Our Badge
The Sword – Resilience The Sceptre – Justice and Kindness The Crown – Your Truest Self
Major General Alistair Bruce of Crionaich gives a lovely explanation of the elements that make our badge special:
"In the centre of it is the Queen's crest – and it shows the lion, with a crown on, holding a sword in the right hand and a sceptre in the left. These three elements, in Scotland, are known as the honours three – and they're the symbols of our sovereignty that go way back in time."
"The Sword. Look at the sword as resilience. The resilience that makes you what you can be with all the training and all the skills that you've armed yourself with. With every ambition that you've got, to stand resilient against the challenges of time. Be resilient with your right hand holding the sword of the Kingdom of Scots in your emblematic mind."
"In the left hand, if you look at the lion, it's holding the sceptre. Now, the sceptre is all about justice and being kind and thoughtful to others. Try and always think of people you don't like and why not say something nice to them? [… try to be gentler to each other. Find some opportunity to do something thoughtful. Get in touch with someone you haven't been in touch with for ages, look through all your contact, find on social media, somebody who you think probably feels vulnerable now, who's probably not as popular as you. Or just find someone who you can reach out to, because every time you do that, the person who'll feel really good about it will be you."
"Lastly, if you look at the lion, the principal symbol of sovereignty is the crown. I want you to see the crown as being very much about you. All the things that I have done echo, pretty much, what I used to want to do when I was eight. So when you are struggling with what you are going to do in your career or if you are thinking about what is going to be right for you to do in life, I want you to think about what you were doing when you were eight. And the reason is this… I see that most of our lives after the age of eight, we face a thing called, in my view, the conspiracy of love. And that conspiracy can be combined in by your parents, your friends, your school who all say that "I should do this and I should do that if I were you". And they can get in the way of that dream that you have within you. Throughout life you will be jogged by the need to make money, perhaps you want to get married or look after children if that's what's right for you… whatever it is that you do try and remember the dream that you had when you were eight."
Remember the sword – to be resilient to the situation that you are in, the sceptre – to be kind to the people around you and always give mercy, thought and good judgement. And the Crown – remember to make sure that you garland everything that you do with what you truly are. Manage the beauty of the conspiracy of love from all the people who love you but make sure that it doesn't get in the way of you doing and being who you are and what your dream is."
---