The department provides a wide musical experience for all QVS pupils with the chance to play and perform from primary 7 to the sixth year.
Despite still waiting for a purpose-built facility we offer all pupils opportunities to develop their musical skills and enhance their educational experience.
All primary seven pupils will play a woodwind or brass instrument as well as singing and performing solo and as a group. Any pupil arriving in the school who already plays an instrument will be able to join the large number of our pupils receiving individual or group instrumental instruction.
Our visiting instructors, who teach in the evening, can provide lessons on the following:
All Woodwind Instruments
All Brass Instruments
String Instruments:

All Orcehstral Strings
Guitars and Ukulele
Harp

Drum Kit and Orchestral Percussion,
Voice
Piano
Our instructors come from both the performing and teaching worlds and include young professionals from the UK and Europe. They provide a wealth of experience and inspiration for our youngsters.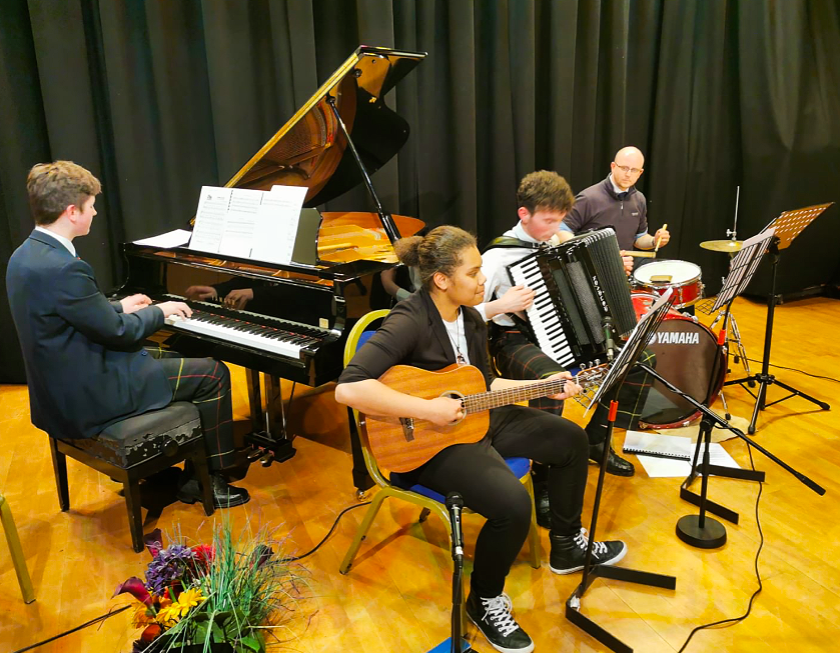 At QVS music, including the ceremonial pipes and drums, is wonderfully resourced with high-quality instruments including the school pipe organ and a chamber grand piano in the Chapel, professional-level orchestral percussion, and an excellent supply of all orchestral woodwind and brass from piccolo to tuba. We have a full range of drum kits, electric and acoustic guitars and the electronic gear that goes with them as well as a healthy supply of all orchestral strings and two small level harps.
All pupils have the opportunity to progress from the third year onwards into certificate music and excellent results are achieved every year in National 5, Higher and Advanced Higher music, as well as pupils who chose to sit ABRSM external music exams.
Our facilities include a dedicated keyboard room, guitar room, a suite of Apple computers to enable music composition and, as well as the chapel, a baby grand piano in the school theatre.
Many of our pupils will attend school trips to concerts and will also be privy to concerts in our school Chapel as it is also the rehearsal venue for the Dunblane Chamber Orchestra, the Scottish Clarinet Choir as well as hosting regular visits from our forces military bands. In recent years we have also arranged for some of our pupils to go backstage, with pupils meeting Nicola Benedetti and world-famous clarinettist, Kari Kriku.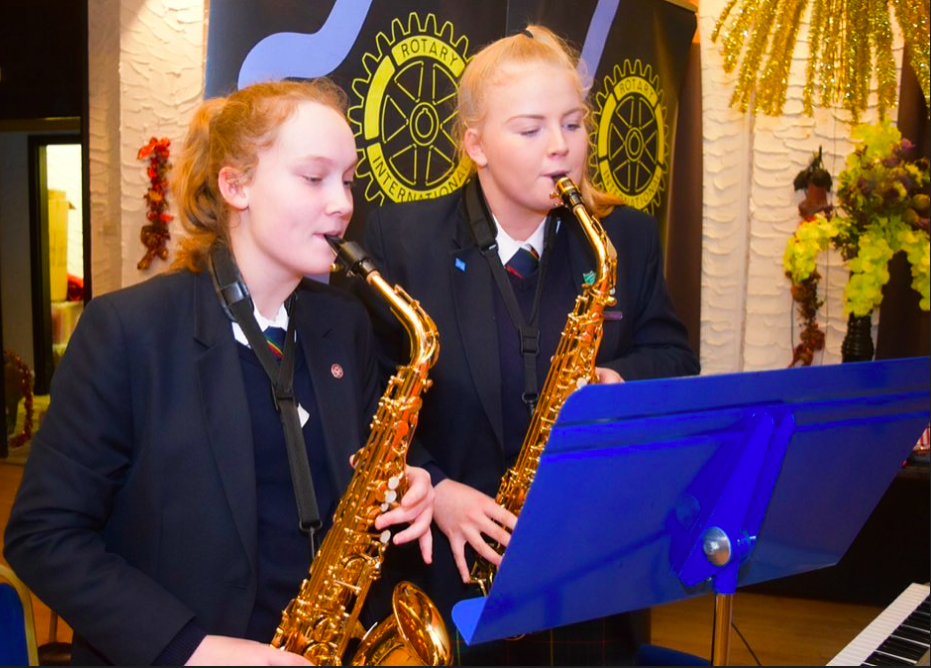 All pupils are encouraged to develop their musical talents with the school providing performance opportunities both in and out of school in the community as the "QVS Minstrels". For the RAF 100 celebrations, a group of our youngsters sang with Scottish Opera's youth singers at the Royal Concert Hall in Glasgow and two of our pupils played in the Scottish Opera Orchestra recording the project's music for distribution to all Scottish primary schools.
Despite our small size, we try to provide as many opportunities for all pupils to develop whatever music talent and ambitions that they have, whether it's the youngster who will go on to become a professional bassoonist touring in the USA with a major London orchestra (like one of our not so Old Victorians) or the first year who proudly treats you to their version of three blind mice on the trumpet. We will try to give every pupil the skills to perform, listen with knowledge, to make their own music providing skills for life adding to their total educational experience.