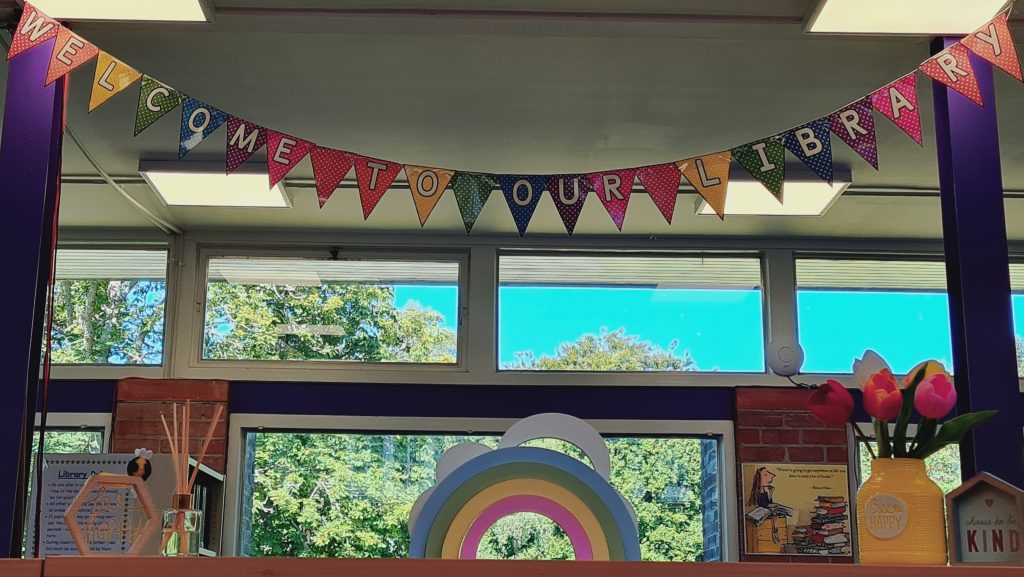 The Library at QVS is a well-equipped and vibrant place as a vital teaching resource, as well as having individual study areas for pupils. The Library has tables and chairs throughout to hold up to fifty pupils and staff.
The aim of the library at QVS is to provide the whole school community with a resource and information service, that helps support learning and teaching for all ages. Within the Library setting, there are areas for reading, studying, thinking and use of computers. We have over 7,000 books for loan, with an excellent range of fiction and general interest non-fiction books to suit all ages and ability levels, as well as books to help pupils in their studies.
The Library has events running throughout the year, some of these events are Roald Dahl Day, Book Week Scotland, Black History Month, Christmas Colouring-In competition, World Book Day. The events are run by the Librarian in partnership with the English Department and The QVS Literacy Ambassadors. The Literacy Ambassadors are senior pupil volunteers, who want to help promote reading within QVS.
The Library is open on weekdays and run by our Library and Information Manager, Mrs Thomson.
QVS Book Club
In August 2020, the QVS Book club was created, the aim is to create a space where P7-S6 can engage in regular discussion about their reading, participate in events and competitions and continue to promote the already positive reading culture that exists within the school.
Research shows that reading for enjoyment has many benefits. It can promote better health and wellbeing, aid in building relationships with others and make a significant difference to overall attainment in exams and in life beyond school. This was what sparked the idea for the Book Club to start, as a school we want to give our pupils the best recourses for their life at QVS and beyond.
"A school library is a school's physical and digital learning space where reading, inquiry, research, thinking, imagination, and creativity are central to students' information-to-knowledge journey and to their personal, social, and cultural growth"

IFLA Guidelines